notes of JPFerrara MD
Christian Principles of combatting depression

Lead Kindly Light
faith
promises of Christ from St.Paul

home at http://members.tripod.com/~uncljoedoc/index.html
hi how are ya ? 

SIRACH:
29 Fear the Lord with all thy soul, and reverence his
   priests. 
30 Love him that made thee with all thy strength, and
   forsake not his ministers. 

     The area proper to the present inquiry will be knowledge and
emotion and their interaction. Action or "act" will also be 
considered but as an offspring of knowledge and emotion.

________________________________   __________
           |          |         | |          |
           |          |         | |          | 
knowledge  |emotion   |action   | |awareness |
           |          |         | |          |
___________|__________|_________| |__________|

     For the purposes of this paper knowledge will be 
schematized as follows:
____________|
            |
            |
observations|
            | 
____________|
            | 
            |
intuitions  |
            |
____________|
            |
            |
concepts    |
            |
____________|

     Knowledge is taken to be a thing of the mind whereas emotion
is taken to be a thing of the heart. These are curiously intertwined
and, in some sense, emotion can be thought of as a kind of knowledge
just as awareness is a kind of knowledge. But for our purposes
knowledge will be more closely held akin to fact than to emotional
supposition. 
     The conjecture is that both knowledge and emotion strongly
affect awareness; and that when the heart says one thing and 
the mind another the stage is set for cognitive dissonance and 
paranoia which are alterations of awareness.
     Action then would be a reflective selective coercion designed
to improve the compatibility of head and heart, knowledge and 
emotion in quest of stabilization of awareness. In this case there would be four designs of action:


____________________________
                            |
action to distort knowledge |
____________________________|
                            |
action to block emotion     |
____________________________|
                            |
action to create new facts  |
____________________________|

____________________________           
                            |
action to dim awareness     |
____________________________|

SIRACH:10
28 My son, glorify thy soul in meekness, and give it
   honour according to the dignity thereof. 

---
vatican II documents
---
The Bible Browser which has seven or eight translations including Latin Vulgate for each verse.
Father Lonergan and other classicists
The Lonergan Website: information and links regarding Bernard Lonergan S.J.
Why I am a Christian: a thought of Father Lonergan
The Louvain school of Thomism : some scholarly writings
Victoria Univ of Wellington links to classical study: lots of classical links
Ask the Oracle: questions answered and links to classics sites
the Book of Sirach: from The Apocrypha
link to Latin Vulgate: and other sites
kerkegaard on the net: philosophy resources
uncljoedoc's site to prayers: contains Pope John Paul II on prayer
CIC: Catholic information Center-BaltCat, Cath Bible search
article on Blaise Pascal: from EWTN library
the Augustine club of Columbia University: lots of cool study skills on this page
Internet classics archive: many works - MIT
Orb, Rhodes College: classics and religious (has Bibles,didache) archive
Newman Club: many articles and Catholic radio programs
my home: my tripod home page
more philosophical and theological topics: still another page

---
The Millennium Resolution

At a service held in Gloucester Cathedral to celebrate 
the beginning of the Third Millennium a child read the 
Millennium Resolution put forward by Churches 
Together in England.


 
Let there be 
respect for the earth 
peace for its people 
love in our lives 
delight in the good 
forgiveness for past wrongs 
and from now on a new start 



The service was held on Sunday 2nd January 2000 in the 
presence of Her Majesty's Lord-Lieutenant for Gloucestershire 
and the Chair of Gloucestershire County Council.  Attendance 
was by invitation of the Dean and Chapter and included representatives 
from The Civic Authorities, Local Members of Parliament, 
The Armed Forces, The Gloucestershire Services including 
Schools and Colleges, The Church and Religious Groups, Youth 
Groups and Voluntary Groups. The Right Reverend David Bentley, 
The Lord Bishop of Gloucester gave the sermon. 
Sandra Jeans and Sheila Ollin (School of Media and Design) 
attended in their church and civic representative capacities. 



Sandra Jeans 


---
vaguely related links
tutorials on mathematically oriented memory theories: Noetica Queensland
philosophical texts: the philosophy encyclopedia of the internet
freeality: Holy See and Mother Theresa
think fast: iqsite
ut sit site: Catholic philosophy of inner peace from daily work
Knox The Belief of Catholics: interesting monograph by reknowned Catholic scholar
Catechism: Catechism of the Catholic Church and related info
prayer book: a Catholic site

---
Newman
Newman and the Power of Personality by George Rutler
Modern History Sourcebook: John Henry Newman (1801-1890): The Theory of Developments in Religious Doctrine, 1843
Newman's The Idea of a University
Lead Kindly Light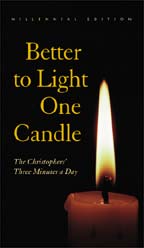 Cardinal Newman

Lead, Kindly Light, amid the encircling gloom, Lead Thou me on!

The night is dark, and I am far from home -- Lead Thou me on!

Keep Thou my feet; I do not ask to see

The distant scene, -- one step enough for me.

I was not ever thus, nor pray'd that Thou Should'st lead me on.

I loved to choose and see my path; but now Lead Thou me on!

I loved the garish day, and, spite of fears,

Pride ruled my will: remember not past years.

So long Thy power hath blest me, sure it still Will lead me on,

O'er moor and fen, o'er crag and torrent, till The night is gone;

And with the morn those angel faces smile

Which I have loved long since, and lost awhile.

go to my notes on Lonergan's "Insight"


words of FraGiovanni on duty
go to St. Paul's formula for God's supplying our needs

salutary words of St Vincent de Paul
Now the end of the commandment is charity, from a pure heart, and a good conscience, and an unfeigned faith.
1Timothy1:5 
freedom

the clutch of the transmission spins wildly, damaged and unable to transmit the power of the engine to the drive train. Would you say that the clutch spins freely? 
prayer

The certainty of others--the life, love, sight, hearing of others.
Walt Whitman "Crossing Brooklyn Ferry"
---
"Strive to live content in the midst of those
      things that cause your discontent.Free your
      mind from all that troubles you, God will take
      care of things. You will be unable to make
      haste in this [choice] without, so to speak,
      grieving the heart of God, because he sees
      that you do not honor him sufficiently with
      holy trust. Trust in him, I beg you, and you
      will have the fulfillment of what your heart
      desires" (St. Vincent de Paul, Letters).
---
Saint Jane Frances de Chantal on Prayer
Mortification and prayer are the two wings by which one may take flight 
into those holy resting places where one finds peace in God far from the 
business of men. 
If when beginning prayer we could make ourselves a mere capacity for 
God, no other method would be required. Prayer must be carried on by 
grace, and not by deliberate art. Enter into your prayer by faith, 
remain in it in hope and do not abandon it except for that charity which 
serves and endures. 

In prayer one must hold fast and never let go, because the one who gives up loses all. If it seems that no one is listening to you, then cry out even louder. If you are driven out of one door, go back in by the other. If you are told, as was the Canaanite woman, that you do not deserve the grace for which you are asking, then reply like her that you are not seeking unusual favors, but are hoping only to eat the crumbs which fall from the divine table.
Let us be sure that we understand what an honor it is for us to spend time in prayer, as much time as we wish, as intimately as we wish. The man who wins an hour-long audience from his prince, considers himself lucky. And our God, before whom the kings of the earth are less than a spark in the full blaze of the sun, and less than a little worm in the presence of the highest angels -- this great God, nevertheless, is eager to hear us no matter what hour of the day or night we turn to Him.
With God there is no need for long speeches. In heaven the angels utter no other word than this: HOLY. This is their entire prayer, and in paradise they are occupied with this single word as an act of homage to the single Word of God who lives eternally.
In prayer, more is accomplished by listening than by talking.
A good and perfect prayer requires that we forget self, that we be ready to sacrifice all that we are for God.
We should go to prayer with deep humility and an awareness of our nothingness. We must invoke the help of the Holy Spirit and that of our good angel, and them remain still during this time in God's presence, full of faith that He is more in us than we are in ourselves.
There is no danger if our prayer is without words or consideration, because the good success of prayer depends neither on words nor on study. It depends upon the simple raising of our minds to God, and the more simple and stripped of feeling it is, the surer it is.
The essence of prayer lies not in being always on your knees, but in conforming your will totally to God in all the events of life.
ON OCTOBER 13, 1884, POPE LEO XIII HAD JUST FINISHED HOLY MASS WHEN HE HEARD A DEEP AND GUTTERAL VOICE SAY "I CAN DESTROY YOUR CHRUCH.....TO DO SO I NEED MORE TIME AND MORE POWER." THEN THE POPE HEARD A GENTLE VOICE ASKING "HOW MUCH TIME?" THE GUTTERAL VOICE RESPONDED: "SEVENTY-FIVE TO ONE HUNDRED YEARS AND A GREATER POWER OVER THOSE WHO WILL GIVE THEMSELVES TO MY SERVICE." THE GENTLE VOICE REPLIED: "YOU HAVE THE TIME......." LEO WAS FURTHER GIVEN TO UNDERSTAND THAT IF THE DEVIL DIDN'T ACCOMPLISH HIS PURPOSE IN THE ALLOTTED TIME, HE WOULD SUFFER A CRUSHING AND HUMILIATING DEFEAT.
THE POPE WAS DAZED. HIS PHYSICIAN RUSHED TO HIS SIDE. THE POPE GASPED, "OH WHAT A HORRIBLE PICTURE I WAS PERMITTED TO SEE." AFTERWARDS THE POPE WENT TO HIS OFFICE AND COMPOSED THE FAMILIAR PRAYER TO THE ARCHANGEL MICHAEL.......
"SAINT MICHAEL THE ARCHANGEL, DEFEND US AGAINST THE ENEMY, BE OUR SAFEGUARD AGAINST THE WICKEDNESS AND SNARES OF THE DEVIL. MAY GOD REBUKE HIM, WE HUMBLY PRAY , AND DO THOU, O PRINCE OF THE HEAVENLY HOST, BY THE POWER OF GOD, CAST INTO HELL SATAN AND THE OTHER EVIL SPIRITS WHO PROWL ABOUT THE WORLD FOR THE RUIN OF SOULS."
-----
THE MIRACLE PRAYER The Miracle Prayer
Lord Jesus, I come before You, just as I am. I am sorry for my sins, I repent of my sins, please forgive me. In Your Name I forgive all others for what they have done against me. I renounce satan, the evil spirits and all their works. I give you my entire self, Lord Jesus, now and forever. I invite You into my life Jesus, I accept You as my Lord, God and Saviour. Heal me, change me, strengthen me in body, soul and spirit. Come Lord Jesus, cover me with Your Precious Blood, and fill me with Your Holy Spirit. I love You, Lord Jesus. I praise You Jesus. I thank You Jesus. I shall follow you every day of my life. Amen. Mary my mother, Queen of Peace, all the Angels and Saints please help me. Amen.

******* Say this prayer faithfully, no matter how you feel. When you come to the point where you sincerely mean each word, with all your heart, something good spiritually will happen to you. You will experience Jesus, and He will change your whole life in a very special way. You will see. Fr. Peter Mary Rookey OSM [The "healing" priest]
Alleluia

END
an article on How to Pray
---



Socrates' Defense
How you have felt, O men of Athens, at hearing the speeches of my accusers, I cannot
     tell; but I know that their persuasive words almost made me forget who I was - such was
     the effect of them; and yet they have hardly spoken a word of truth. But many as their
     falsehoods were, there was one of them which quite amazed me; - I mean when they told
     you to be upon your guard, and not to let yourselves be deceived by the force of my
     eloquence. They ought to have been ashamed of saying this, because they were sure to
     be detected as soon as I opened my lips and displayed my deficiency; they certainly did
     appear to be most shameless in saying this, unless by the force of eloquence they mean
     the force of truth; for then I do indeed admit that I am eloquent. 
---
The Base of all Metaphysics 

AND now, gentlemen, A word I give to remain in your memories and minds, As base, and finale too, for all metaphysics.
(So, to the students, the old professor, At the close of his crowded course.)
Having studied the new and antique, the Greek and Germanic systems, Kant having studied and stated--Fichte and Schelling and Hegel, Stated the lore of Plato--and Socrates, greater than Plato, And greater than Socrates sought and stated--Christ divine having studied long, I see reminiscent to-day those Greek and Germanic systems, 10 See the philosophies all--Christian churches and tenets see, Yet underneath Socrates clearly see--and underneath Christ the divine I see, The dear love of man for his comrade--the attraction of friend to friend, Of the well-married husband and wife--of children and parents, Of city for city, and land for land.
Whitman, Walt. 1900. Leaves of Grass.
---
The Epicurean said: "Seek not to be happy, but rather to escape unhappiness; strong happiness is always linked with pain; therefore hug the safe shore, and do not tempt the deeper raptures. Avoid disappointment by expecting little, and by aiming low; and above all do not fret." The Stoic said: "The only genuine good that life can yield a man is the free possession of his own soul; all other goods are lies." -quote from Wm.James The Varieties of Religious Experience
---
Man's freedom, far from being destroyed by his relationship to God, finds its foundation in this very relationship.
"To take something away from the perfection of the creature is to abstract from the perfection of the creative power itself."
This metaphysical axiom, which is also a mystical principle, is the key to St. Thomas' spirituality.
-remark in encyclopedia britannica
---
Formula for God Supplying our Needs
these are the thoughts of St.Paul brought together
Peninsula Bible Church library
from the Godly use of Assets Time and Money by Paul Winslow

back to Christian principles of combatting depression (Faith-Rest)
---
My Father knows all my needs


and He promises to supply
so I am to be content
in whatever circumstances I find myself
while serving others
by working at what my hands find to do
which supplies in abundance beyond just my needs.
---
Christian Principles of Application in Dealing With Depression



The following ten principles are Bible techniques which you can use to deal with depression in 

your life, regardless of the cause. Each of these topics is discussed in more detail in other 

notes in this series, but this outline will give you ideas on how you can make specific 

application of categorical doctrine to help with real world problems. 

CONFESSION OF SIN

Personal sin leads to depression. You must deal with sin on a daily basis by confessing and 

moving on. If you don't do this, sin becomes a burden which clouds your joy, drains your 

spiritual energy, and destroys your productivity and vitality. In short, sin is always 

depressing.

In privacy, make a list of your mental attitude sins, verbal sins, and behavior sins. Ask the 

Lord to make you aware of the habits of your own life. Respond immediately to the Holy Spirit 

when He uses the Word to spotlight your sin. Name the sin to God; then rejoice in forgiveness and 

cleansing and your renewed fellowship with God. All the promises and provisions of God the Father 

are now available to you. Make it a spiritual habit to confess sins whenever they show up in your 

life.

THE FILLING OF THE HOLY SPIRIT

The Holy Spirit fills you and controls your life when you have no unconfessed sin in your life. 

You can trust the Holy Spirit to reveal sin to you when you commit it, or even before. When the 

Holy Spirit in control, He produces His fruit (Gal. 5:12). The fruit of the Spirit does not 

include heaviness, depression, discouragement, disillusion, anguish, sadness, dejection, or loss 

of vitality. Consider these points:
* Impersonal love is free from depression. 
* Joy pushes depression out. 
* Peace does not coexist with disillusion in the soul of the believer filled with the Holy 

spirit. 
* Longsuffering gives the ability to deal with depression and trouble. 
* Gentleness, goodness, faith, meekness, and temperance are fruits of righteousness, which is 

divine good. Divine good takes the place of depression.
LIVING IN THE WORD

By Living in the Word you are constantly reminded of God's viewpoint, of His Plan, of His 

provision, or His awareness of our spirit of heaviness and what He want to accomplish in us with 

the testing. Living in the sphere of human viewpoint is a source of depression. Living in the 

Word gradually transplants you to a new sphere, a new environment for your life, in which there 

is victory over depression.

ORIENTATION TO GRACE

Depression is often caused by people, most of the time by people we cannot escape, or people we 

love, or people we cannot confront, or people we trust. Grace Orientation includes the ability to 

look at people and see them as God sees them. It includes the ability to let them live their 

lives as unto the Lord, and trusting God to make His way clear to them. This technique lets 

people make mistakes without your judging them. It enables you to accept criticism without hurt 

or bitterness. It enables you to "esteem other better than yourself", to "do nothing through 

strife or vainglory."

OCCUPATION WITH CHRIST

The technique of Occupation with Christ helps to cure depression because it gets your eyes off 

your spouse, your children, your neighbors, your friends, and yourself. Instead, as you move 

through the day, you are thinking about the Lord Jesus Christ, His plan for your life, the 

Father's provision for each incident in your life, and His provision of wisdom for each decision 

you must make. Occupation with Christ is a by-product of the Faith-Rest Life. Depression is a 

by-product of occupation with self, with life, with problems.

THE FAITH-REST LIFE

Faith-Rest is believing the promises of God and then entering into the "rest" phase of Christian 

living by claiming and enjoying those promises. Therefore, you must search the Scriptures daily 

to remind yourself of promises, and to learn new ones. You must know who and what God is so that 

you will not hesitate to believe that He can do what He has promised to do. Study the attributes 

of God using verses about the Essence of God. Know Him as He reveals Himself in the Bible. 

Believe Him when He tells you what He will do for you. Count on it. Let your faith rest on it. 

Cast your burden on the Lord.

RELAXED MENTAL ATTITUDE

A relaxed mental attitude is based on knowing God and on having the divine production in the soul 

that comes with the fruit of the Holy Spirit. A relaxed mental attitude is one of the results of 

Living in the Word, Walking in Fellowship, practicing the Faith-Rest Life, and being occupied 

with Christ. All of the components of depression melt away when God provides this attribute.

MASTERING OF THE DETAILS OF LIFE

We are all involved with details of life. Either we master them, or they master us! If you are a 

slave to one or more details of life, your thoughts are devoted to them, and they drive you. They 

dominate your thoughts, your conversation, your decisions. Slavery to the details of life leads 

to disillusion, disappointment, and depression.

Mastery of the details of life means that you look to the Lord for every detail. Your happiness 

does not depend on people, circumstances or things. You have the peace of God that passes 

understanding. You have learned to be content under any circumstances. You can wait for the 

Lord's timing in providing the details you want; you can enjoy them when you have them; and you 

can remain happy when the Lord sees fit Not to provide some detail.

CAPACITY TO LOVE

There may be many depressing details that surround our relationships with other people or the 

circumstances of our lives. The fruit of the Spirit love deals with that depression by giving us 

the capacity to have a Spirit-produced love for God (1 Cor. 16:22); for spouse (Titus 2:4); for 

others (Rom. 12:13).

INNER HAPPINESS

Inner happiness is not possible for the believer who is occupied with himself and his needs. 

Inner happiness is a state of rejoicing based on knowing that God is everything He claims to be 

and that He can do what He has promised. Inner happiness is the joy of living where every 

provision for physical, emotional, and spiritual well-being is being made by God in the life of a 

Christian who is walking in daily fellowship with Him. 



To: Grace Notes Home Page

Send comments or questions to:

Warren Doud...wdoud@bga.com
1705 Aggie Lane
Austin, Texas 78757 
heuristic structures
metaphysics
The will is the intellective appetite according to Aquinas
---
further clicks
saint of the day: Franciscan site


Fr. McInerney; Monsignor Smith: 1997 expo of OUR POPES great work.


papal encyclicals : has many encyclicals of recent Pontiffs


Three minutes a day: The Christophers